Onward's Cruise Journal 2019
Bahamas


Updated: 1 April 2019


March 2019


1 March 2019; Friday; Highborne Cay

A quiet night with almost no wind or swells.
It is good to finally be able to kick back and relax after an intense 2-month period of boat preparation, maintenance, repair, provisioning, and passage making.
Peggy and I both spent the day working on various projects. At 1645 we Ventured ashore to meet the Ariels and the Silver Girls at the marina restaurant. It was a good reunion with Miles and Laureen and with Suzy and Don — a very nice transition to the Bahamas Cruising Lifestyle.
2 March 2019; Saturday; Highborne Cay to Warderick Wells

Another quiet night in the anchorage. We learned that the request for moorings put in by Miles for Aeria, Silver Girl, and Onward came through and we have moorings in the N field. Onward got underway at ~ 1000 and we had sufficient apparent wind angle with the SE winds to motorsail with the genoa for the first leg of the route. Then it was the on the nose for the rest of the trip. We picked up mooring 9 handily at ~1500. It works much better when I remember to rig the foredeck before we get to the mooring field.
I checked in with Cherry on VHF and she reminded me the weekly beach social was at 1630. Peggy whipped up her famous chili dip and we were off. Cherry told us that she was able to hear me on VHF 9 asking for another vessel to relay that we were on the way — even though I couldn't hear her. We had a fine time meeting a number of first-timers as well as a couple of experienced crews. We learned an interesting fact: our fabulous Tervis stainless steel extra large glasses whose cocktail contents seemed to last forever at the Chalet, went dry early in the Bahamas. Once back aboard I was out like a light.

3 March 2019; Sunday; Warderick Wells

I was up at 0530 and enjoyed the quiet of the mooring field with a fabulous first cup of coffee. The I chewed away at the ash & trash of life until it was time to head into the ECLSP office. After settling up with Cherry, Peggy and I hiked to BooBoo Hill. The mangrove are looks in tough shape as a large section along the path is all dead. Strange. The island itself didn't seem any worse off than last year due to defoliation by the hutia. It seems that now only the hutia resistant foliage is left. We saw lots of scat but no hutia.
4 March 2019; Monday; Warderick Wells
5 March 2019; Tuesday; Warderick Wells
As soon as I got up and had made coffee, I began working on the generator problem by clearing the forward berth of my stuff an opening up the generator case. I loosened a hose clamp for the feed water to the raw water pump; then I held it down below the waterline until a full flow of water was achieved. I reattached the hose to the water pump, restarted the engine and normal water flow! PTL
Peggy and I spent a peaceful day aboard working on projects. I continue to struggle with my never ending tasks of triage and organization of papers and stuff alternating with working on the endless list of boat projects.
At 1815, Nicola and Joe Ierna came aboard for the pizza party they had missed. We had a fine relaxing evening just eating, drinking and talking. Joe gave us an update on his very eventful first year as ECLSP Administrator.

6 March 2019; Wednesday; Warderick Wells

The expected cold front came through during the night. There were essentially no W winds preceding it and I woke up to N winds at 10-12 kts

7 March 2019; Thursday; Warderick Wells to Cambridge Cay

The winds died off to < 15 kts during the night. We decided to depart at first light to be able to reach the S channel to Cambridge near high tide. At 0600 Peggy and I began to detach from the mooring. As I attempted to pull the line I use to attach the mooring pennant

8 March 2019; Friday; Cambridge Cay

A beautiful day! Again! I finally got around to organizing and archiving all of Onwards ships papers. The it was off to work on finishing bring power to the companionway deck. I ran an experiment to see if I could use a standard ethernet cable to extend the run of the POE (power over ethernet) cable that comes with the Bullet. I'd bought a waterproof ethernet connector / union and used it to connect the cables. It worked fine! I now plan to set up Onward's router and Bullet POE system permanently. For those months of the year when we are along the US coast, I seldom if ever need the Bullet, Now I can set up the antenna on the arch and plug it's POE cable into the waterproof connector on the companionway deck power point. I can unplug it if I find we don't use it enough to leave it out in the weather.
I organized the 2019 Annual Cambridge Cay Bocce Tournament on the beach to the SE at 1600. Participants include the Ariel's (Laureen and Miles), the Silver Girl's (Suzy and Don), the Saber Tooth's (Nora and John), their guests (Janet and Shawn); the Southern Flights (Michelle and Ian), and the JB's (Judy and Bill) and the Onward's (Peggy and Joe). Peggy and I arrived first to set up the venue. I was very impressed as Peggy gathered and implanted beach rocks to make two supports for her portable table (a big plastic tray). Such engineering skills!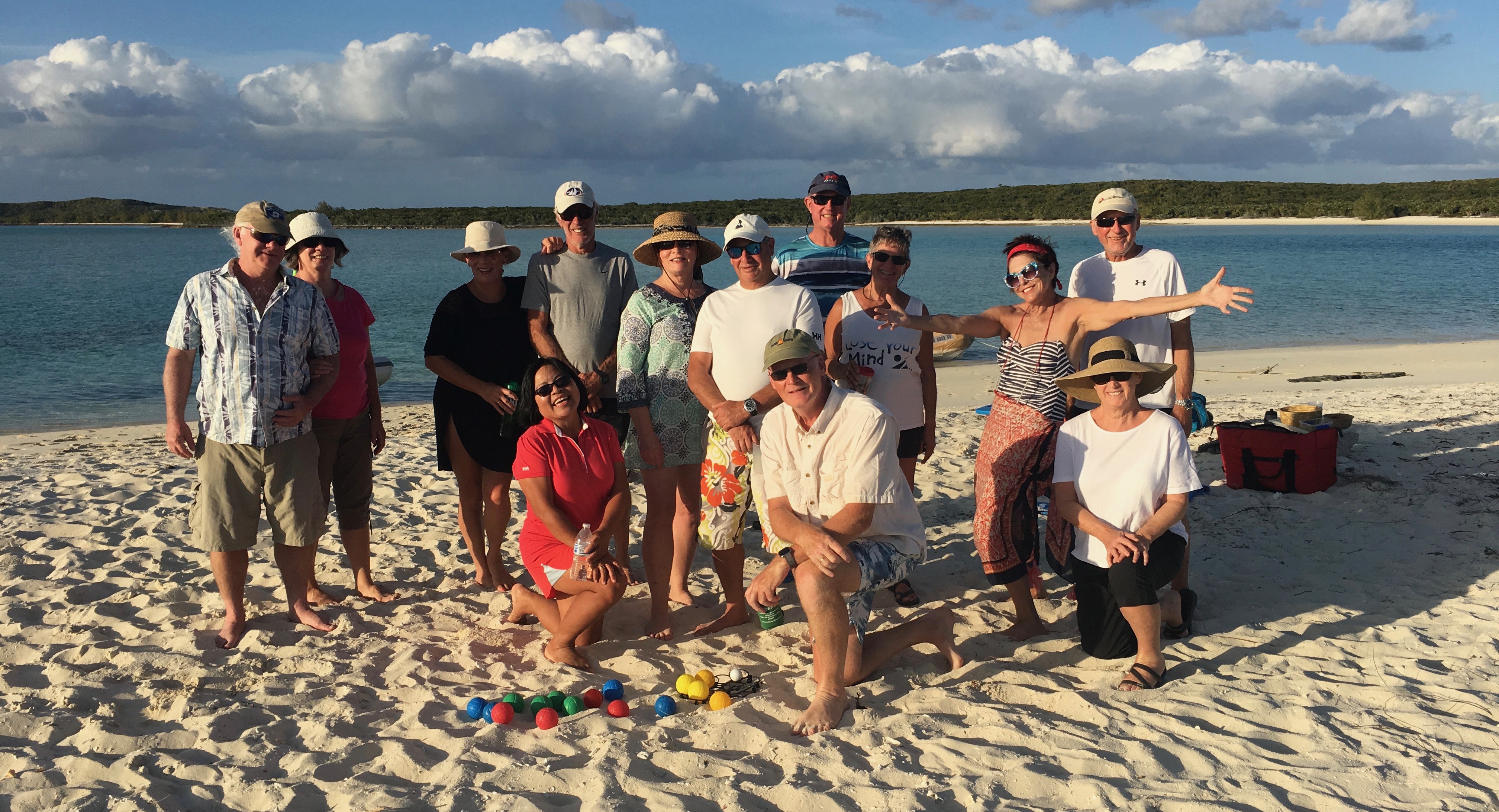 Using two sets of bocce balls, we played a warm up match of individuals. Then we switched to a boat-based two-person team tournament. As boat teams won, they sat out while other teams played. Teams with the lowest scores played each other with the winner then moving up the series based on their total score. (Don't ask me how I figured out to do this…).
On the first round, Peggy led the Onward's to a 4-point sweep. So we got to sit out and watch the fun for a while. Actually, I supervised the games while Peggy got to have nice chats with all the guests. The JB's pulled into the lead after the second series of duals with a 4-point gain adding to their initial 2-point win. AND Judy claims they knew nothing about Bocce!
It ended up with a dual between Saber Tooth and Onward for the right to contest the JB's. Peggy's throw gave Onward the edge. In the playoff, Onward won with two points!
It should be noted that in all the Beach Bocce tournaments Onward has organized, this was the first time I remembered to bring a pen, 3x5 cards, and a tape measure. The latter was critical as one game ended in a tie requiring a playoff. Several other games were decided by 0.25 to 0.5 inches!!!
9 March 2019; Saturday; Cambridge Cay

I awoke to a heavy rain squall about 0430 and learned we had not closed the hatch over the forward berth. I guess I'm still not fully back in cruising mode.
The Fischer-Panda god was good today and it started and ran normally with good cooling water flow.
I spent most of the day completing the installation of the new power and signal connections on the companionway deck. One of the final tasks was running an ethernet cable from the navstation to the companionway deck.

10 March 2019; Sunday; Cambridge Cay to Staniel Cay

While I was making coffee, i wondered why it was so dark this morning when it had not been at the same time yesterday — then I remembered the change to DST that my devices did automatically!
At ~1000, I weighed anchor and we departed through the S entrance to make our way to Staniel Cay. There was a >12 kt SE breeze so we sailed S under genoa and partially furled mainsail. On arrival off Staniel Cay, I was pleased to see room at out spot — the hole W of the Grotto.
After anchoring, Peggy and I were both a bit out of it a combination of weak coffee and the change to DST.
holding tank

11 March 2019; Monday; Staniel Cay

A beautiful day! We decided to go in and try the stores even though it was a Monday. We did see one supply boat leave yesterday as we came in. We found a good selection at all three stores. We started with Isles General, then moved Venture to the new government dock and walked to the Pink Store, and then the Blue (Burke's) store. We bought something from each and successfully updated our fresh veggies supply.
After a nice lunch salad and a short rest, I took on the generator which again had lost cooling water prime. I finally got it primed by disconnecting the raw water hose as it reenters the case to feed the exhaust elbow. I plugged the barb leading to the exhaust elbow and then had Peggy start the genset. It ran for ~20 seconds and then there was a good flow of water. Peggy stopped the generator and I reconnected the water hose. On restart the generator cooling water flow was normal!
I declared an early cocktail hour and then Peggy and I traded backgammon wins. I maintain she has a way of controlling the dice! We enjoyed steaks grilled on the new Magma and watched the movie Atonement.

12 March 2019; Tuesday; Staniel Cay

Today is Peggy's Birthday!
This morning's weather forecast has a cold front coming through early to mid-day tomorrow with essentially no west-component winds. Not bad but not something I wanted to deal with when I put into SCYC for fuel and water. So I decided that it would be better to up anchor and do the job this morning.
We weighed anchor and were at the fuel pier by 0745. A large motor yacht had been given the fuel pier as an overnight berth. They dawdled around for over an hour and a half while I had to keep station. Then another large motor yacht had to back out of its slip. Of course, he didn't have his VHF on and he wanted me to move. Once he was gone, the vessel at the fuel pier decided to depart. Then he turns around and starts coming toward where I had been waiting and wants me to get out of his way. Again another BMYF (Big Motor Yacht Fool) who finds using a VHF beyond his abilities. He passed me by in a hurry — only to go anchor by the Grotto. At least this gave us a berth at the fuel pier and we were able to take on fuel, water, and offload trash. Now we are good for another 3 to 4 weeks!

13 March 2019; Wednesday; Staniel Cay to Black Point

About 0730, I began to raise the anchor and when I was about half done, I was startled by a trawler, coming from my port stern trawler moving at high speed across my bow. I was tethered to the bottom and could do nothing. The guy finally swerved around my bow and kept on going. I hailed him on VHF to inform him of his stupidity. I found this guy fit into the stereotype of the French-Canadian who doesn't give a dam about anyone else (a small but real fraction in stark contrast to the many warm and gracious folks I know): He shouted "I have two engines, I'm fine". Go figure…
We were traveling at low tide and touched on a sand wave at the low spot on the route out. As we passed Dothan Cut with a strong ebb flow, I attempted a pumpout. After a short period the macerator pump stopped — without tripping the circuit breaker. Now What?
Once anchored at Black Point, we decided to chill for the rest of the afternoon aboard.
Corinthians

14 March 2019; Thursday; Black Point

15 March 2019; Friday; Black Point
16 March 2019; Saturday; Black Point to Musha Cay

Ariel came in from Big Majors about noon and headed to Emerald Sunset to check out lunch. Peggy was busy on a project and by the time we Ventured in, the Ariels were just departing. Peggy and I decided to have lunch anyway. I used the opportunity to talk with Pappy, the guy who had transformed a derelict building - literally in ruins to a vibrant operation. It seems the property belongs to the Regatta Association from whom he leased it. Now that he has made it an attractive place to go to, there is a controversy about this lease. We'll see.
Once done with dinner, we decided to move to Musha Cay for the night to make the trip to George Town shorter in the morning.

17 March 2019; Sunday; Musha Cay to George Town

I weighed anchor at 0600 and moved slowly toward Cave Cay Cut until the sun had risen enough to see clearly. There was about 10 kts of ESE wind against the ebb flow so there were some !3-4' waves at the cut. Onward handled these easily but there were a couple of waves that came over the bow. The water remained lumpy until we were at the edge of the shelf.
NOAA again failed to send Mother Nature the memo that winds were to be from the E — so they were from the SSE to SE; just enough so that we could get no help from the sails. Of course!
I went below to fold some clothes and I discovered water all over the forward head, forward stateroom floor and on the dining table. It seems the hatches had been closed in the vent position (something I seldom do). I could not see this when I prepared for departure and I failed to double check so a couple of the big waves had gotten us. The hatch in the forward head was properly closed, yet there was a lot of water. As I was contemplating this while standing under the hatch and looking up, the last wave to come over the bow for the day hit. I was astounded to see a sheet of water pour from along the rear edge of the hatch. I had Peggy slow to idle speed while I opened the hatch and lay a length of flannel cloth along the rear sealing lip of the hatch to plug the apparent gap. I then spent about 2 hours cleaning up the mess.
The rest of the trip was quietly uneventful and we were anchored off Lumina Point at ~1330.

18 March 2019; Monday; George Town

Chris and Tom were in George Town to get their Visas renewed. He called to tell me that Von "Smashie" Ferguson had died on Saturday of pancreatic cancer. He was a wonderful guy and my yearly visits to hem at Black Point to see the Class C sloop he was currently working on was always fun. I first met him when he and his wife came aboard Onward when I hosted a birthday party for Tom.
A couple on a newJeanneau from Annapolis asked for help on the Cruisers Net with Autopilot problem. I invited them over so we could compare notes and lent them my DVM to help them chase down the problem. They later told me the boat has a relay that controls power to the instruments and it had failed. They had just taken delivery of this boat before leaving Annapolis on a long-term cruise! They are braver than I.

19 March 2019; Tuesday; George Town

We Ventured into town at 1000 to meet Jeffrey and Jae Sherwood, Corinthians from the Annapolis Fleet, that I had met on the annual cruise in RI two years ago. They had sailed their Hylas 54 into Emerald Bay marina and were awaiting the arrival of alternator parts. We headed S in their rental car to tour. We went down to Little Exuma — to the end of the road. Then we stopped for lunch at Santana's. They have really done well and now have an extensive deck with good shade overlooking the beach. Again the cracked lobster was wonderful.
On our way back to George Town we stopped at Lumina Point so Jeff and Jae could sit with me and go over the charts for their planed cruise through the Bahamas back to Annapolis. We had a fine time.

20 March 2019; Wednesday; George Town

Hair salon; pharmacy; shopping; P&P; Driftwood

21 March 2019; Thursday; George Town

22 March 2019; Friday; George Town

I decided to run a test and move the connection of the Smart Controller ST-1 network connection from the SPX-30 to the ST-1 try-connector block near the Axiom Pro 12. When I did this, the remote was now able to display all the nav data available on the ST-ng network. When connected to the SPX-30 ST-1 port, it only could control the autopilot. The simple job of mounting the base station under the cockpit nav console turned into an hour+ trial due to difficulty of getting my hands and then seeing what I was doing. This is too-familiar an issue.
I decided to attack the leaking forward hatch problem. I really didn't understand how the hinges worked on it. I finally realized I would have to lie on my back on the foredeck to be able to see the hinges under the rear rim. I found that the starboard hinge had ~1.5mm of space under it where it was screwed into the frame. I then found that 3 of the 4 hinge mounting screws were loose. I tightened them all with a ratchet offset screwdriver. When this was done, it was no longer possible to slip a 0.5 mm thick plastic feeler gage between the sealing surface of the rim and the gasket. Wow! If only I'd done this uncomfortable job earlier!
I added a length of ~3/4" D-profile rubber gasket from hinge to hinge around the base of the hatch frame just under the lip of the sealing rim. The idea being to make it difficult for water that comes over the foredeck to get to the rim seal area. I also put a thin strip of weather stripping along the inside of the rim of the rear edge of the hatch cover. We'll see how this works.
23 March 2019; Saturday; George Town

I never heard my wake up alarm and slept through to 0730 so I started the day an hour and a half behind.
As part of the effort to bring closure to the electronics upgrade, I revised the Navigation System Schematic to show all of the components; the new location/connection for the Smart Controller base station; all transducers; network bi-directional vs uni-directional connections; and direct wire connections.
I made a major blunder and absentmindedly reached for the VHF volume control and knocked over my new coffee mug full of coffee. Thankfully it spilled away from the laptop and toward VHF. In the process it soaked all the miscellaneous papers I'd been too lazy to triage and file. It took almost an hour to clean up the mess.
Time Stone from Skylark of Portsmouth / Kittery ME, came over to talk about his autopilot problems. I reviewed basics of Raymarine networking with him and advised him to do the needed detective work to create a navigation electronics system schematic. He has been plagued with intermittent faults. The latest of which is an apparent fluxgate compass failure. I was going to give let him borrow my backup fluxgate however I discovered the wire was still in place running to the SPX30 - just in case. So he was going to check out another on offer from Enjoy.
Peggy had a fever during the night and was achy all day. She began to feel better by mid day. We decided to just stay home and have a quiet night.
By evening she was feeling well enough to make a delicious dinner with the nice pork chops we had found at Exuma market.

24 March 2019; Sunday; George Town

A very windy day. Peggy and I kept busy with projects. I managed to work out a quick way to scan all the boat cards we accumulate. I also managed to fix a damaged cartridge of for the labeler that was getting in the way of me getting organized — Now that's my story!
25 March 2019; Monday; George Town

Pizza dough was underway early in the morning. After cleaning the place up, I spent the midday working on a faster and easier process to put photos on my websites.
Peggy again played sous chef and readied the ingredients for me. I started at 1500 and had four pizzas prepared by 1700. I again had the luxury of time to shower and rest before guests arrived.
Guests included the Ariels, Laureen and Miles, the Sandanas, Sandy and Dan, the Water Lily's, Ruth and Steve, and the Rally Point, Tom. Peggy had made some pigs in the blanket which were a hit as well as a smoked salmon dip made from the "plank" of salmon we bought at Costco. Well it must have been really good because by the time I went to get some it was gone!. Laureen brought a great salad. Because I started early, the pizzas had more time to rest before baking and they came out with a very light body with crispy crust. Three of the 4 pizzas disappear. Tom brought chocolate pie and Sandy and Dan brought ice-cream. Nobody seemed to be hungry after all of this.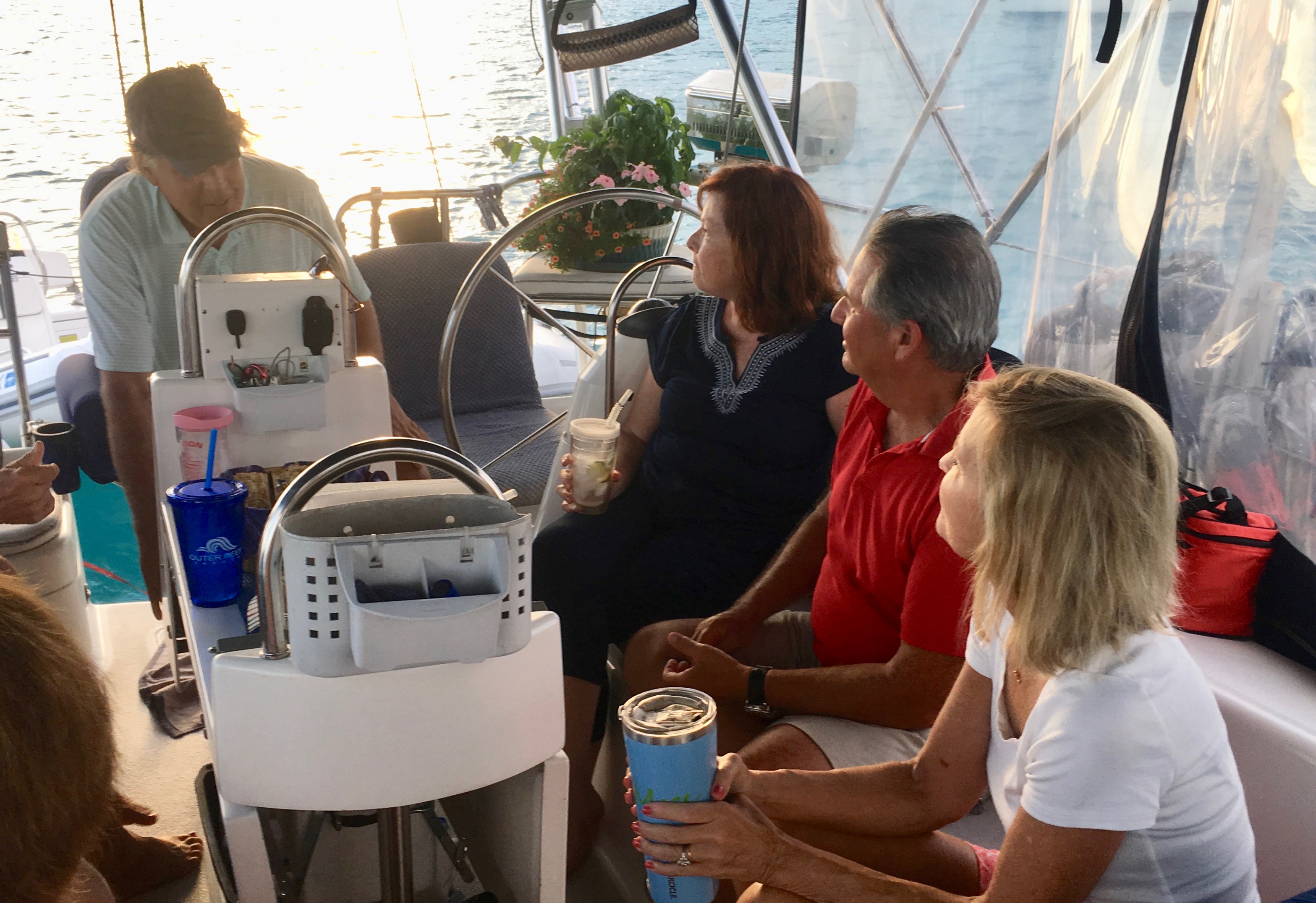 The Sandanas and Water Lilys were Farkle Virgins — so we fixed that. It turned out that Sandy and Steve fought it out for the win with Sandy snatching victory on the last throw! A very interesting factoid: every time we bring new people to Farkle, it seems it is one of the Farkle Virgins that wins!

26 March 2019; Tuesday; George Town

I was a bit tired due to last night's partying but at 0930 I headed into town to get the propane tank filled. I was impressed that it had lasted from before Vero Beach considering all the baking we've done. The propane truck that usually comes to fill tanks is out of commission but one of the long -time cruisers on houseboat Tangelo kindly arranged for someone to pick up a bunch of tanks and take them to the fuel depot for filling. I did some shopping and checked up on some local businesses. Exuma Yacht Club now has 3 studios to rent, a new operator has taken over the restaurant, and Shell is supposed to reopen the marine fuel operation in about a week.
I spent a good part of the afternoon trying to figure out a way around an apparent bug in the Rapidweaver software I use to publish my websites. I finally had to inspect the HTML code it generates and found that a different font caused the compiler to insert the wrong code to display a photo.

27 March 2019; Wednesday; George Town

Lumina Pt; Bocce; P&P Beach ECP BD; 2 tanks down
Peggy and I decided we needed to reward ourselves for staying aboard the last few days to entertain and catch up. We made plans with the Ariels to head in to Lumina Point for lunch. The trip into the dock in Hole 3 was made easy by a near high tide. We discovered that in the last year they had put in sliding windows all along the sides of the beach-view Dinning Pavilion. Now there is no need to hide when a rain squall starts spitting horizontally. Nice.
On the way it we saw that Peace & Plenty had taken over the former Higgins resort. We decided to explore after lunch. In the eleven years I have been visiting George Town, I had never been ashore here because the former owner discouraged it.

After our tour of the resort, we enjoyed a rum punch while the rain squall from the weak front passage came through. Then we had our Bocce game. I managed to lead for most of the game only to have both Peggy and Miles catch up. Miles went on to win by 1 point.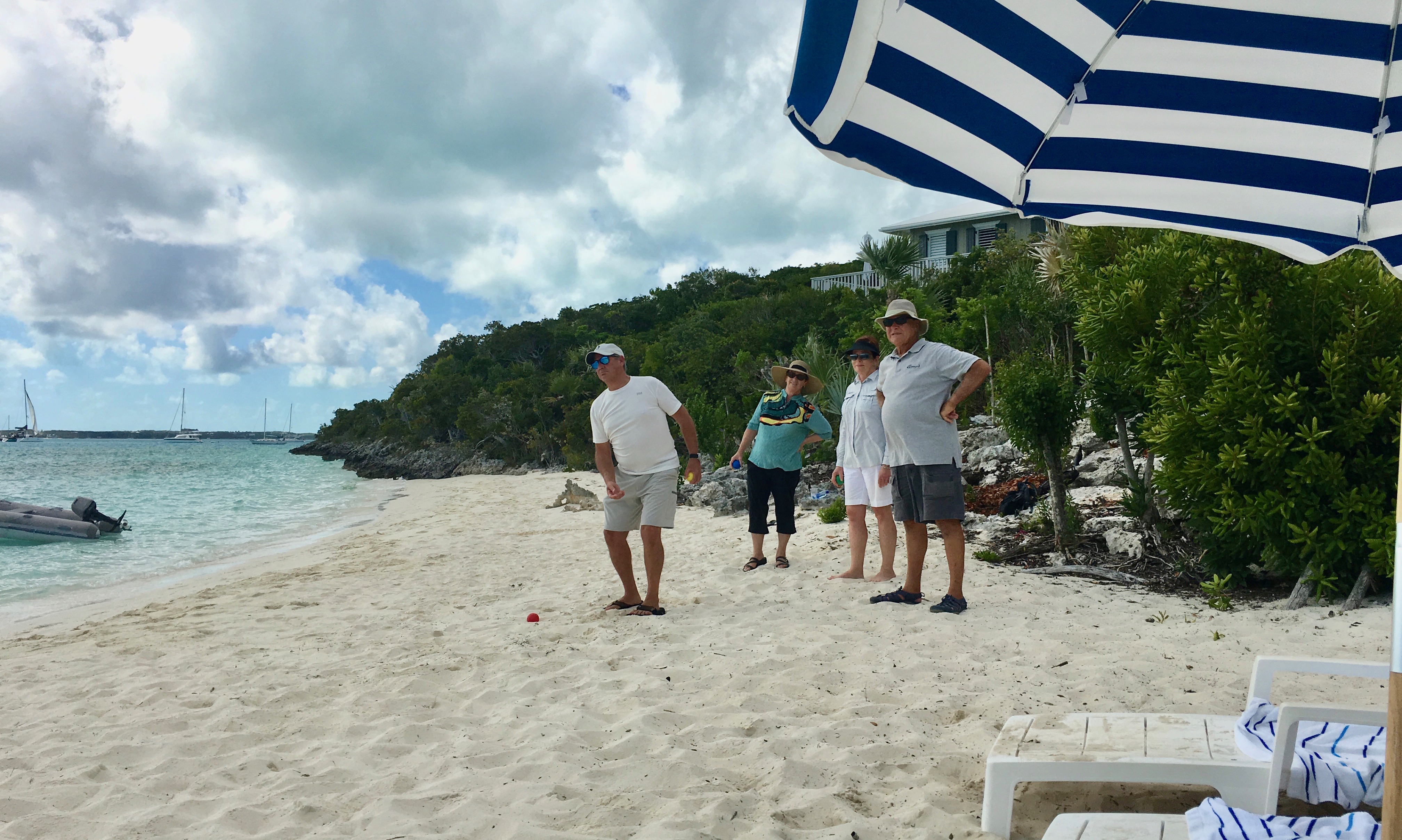 • We returned to Onward for a refreshing nap before heading over to Sandana for mango margaritas while we watched the sunset.

28 March 2019; Thursday; George Town to Thompson Bay

An early weather check showed the conditions were still good for our plan to cruise to Thompson Bay Long Island today and then on to Conception on Sunday.
Onward weighed anchor at 0715 and I discovered that the ST7002 autopilot controller did not have a connection to the network. I tried the wireless remote and it worked fine — a good payback for my effort to get this working again. While underway I verified my suspicion that the ST-1 plug connecting the ST7002 to the network had lost a good electrical connection. A bit of hard wiggling seemed to correct this. It is time to replace this problematic plug.
Winds were NNE @ ~ 10 kts and we motorsailed S to the cut where we found benign seas ~ 2' with occasional 3+'. Once out of the harbor Peggy took over navigation so I could work on this website. We anchored about 1245 and Ariel and Sandana cruised in about an hour later.
At 1600, we Ventured in to Tiny's Hurricane Hole. We discovered that they had just dug a channel, built a beautiful dinghy pier with a gazebo at the end. They used the dredged material to build a second breakwater to the W so that the channel and pier have breakwaters on each side. I spoke with the owners, Michelle and Jason. They are doing very well - at max capacity now and looking to expand with 2 more bungalows. It is great to see good people doing well here — and the area needed it. We were soon joined by the Sandanas and then the Ariels. A fine time was had by all!

29 March 2019; Friday;

The Sandanas rented a car and we all went off to show them the island. First we headed S to Deans Blue Hole. It was quiet with only two family groups there. While the Ariels and Sandanas climbed the cliff, Peggy and I wandered S along the beach. After passing a small peninsula, the secluded beach beyond was too tempting and I went for a swim in my skinsuit. Very refreshing! One of the best parts of a skinsuit is that it drys quickly in the sun making dry clothes welcoming. Sandy and Dan went snorkeling. After photo ops, we headed on down the Island.
We next went to the Flying Fish Marina and discovered that their new multi-purpose building that I have watched being built for years is now open. It has a beautiful pool and patio overlooking the harbor. The marine store has been greatly expanded, and the restaurant now occupies the whole S wing on the 2nd floor with fantastic 270º views of the ocean, cut, and harbor. We stopped there for lunch. Four guys from an express cruiser told me they had eaten > 12 orders of the cracked conch in 48 hrs! So I had that for lunch and wasn't disappointed. Everyone else was very pleased with their meal.
Father Jerome's Catholic Church now has locked doors. So we could only take photos of it and then from the steps. We were entertained by a herd of sheep as they worked on the lawn.
As we headed N to visit Stella Maris Resort, we passed a sign for the Hamiltons Caves that I'd passed many times before. This time we stopped and could find no one at that house with the sign. As we were about to leave, Leonard Cartwright appeared and offered us a tour of the caves. When I mentioned seeing the caves at Stella Maris, he just laughed and said that they were not "real" caves. So we followed his car and he lead us to the entrance to the caves. What followed was a wonderful tour through a hugh cave system many hundreds of yards long. His family bought the 90 acres in the 1850's. They used to mine the bat guano and ship it to the US. In more recent times it had served as a hurricane shelter until about 15 years ago. His tour included the history, geology, ecology of the cave system. Some of the stalactite and stalagmite formations were amazing. All in all a tour well worth the $15/person fee.

The last stop of the day was at Stella Maris Resort to visit the oceanfront pool bar. This is one of my favorite places in the Bahamas. I enjoyed a fantastic froze raspberry frozen daiquiri as we watched a spectacular show of the waves driven by > 15kts of E wind as they came ashore.

30 March 2019; Saturday; Thompson Bay to Milers Bay

We hitched a ride with the Sandanas to go in to the Farmers Market. I got to say hello to Penny who does the daily Cruisers Net. I was disappointed to find no homemade pastries for breakfast. I assuaged my disappointment by having a cup of chicken souse. It was so good, I decided to wear it on my polo shirt.
Next was Hillside Grocery where an apple pie, jumped out of the cooler and made me take it home. The Ariels returned Peggy and I to Onward. We made plans to move on to Chez Pierre for dinner. As we got underway, Miles called to opt out. Peggy and I pressed on.
As we approached the anchorage off Chez Pierre, I slowed down and turned the Axiom chart to "Fishing" to see more detail. I was then startled to see it draw a red swath along the track. After a bit, it began drawing updated bottom contour maps! Neat. I ran a bit of a traverse to determine the best place to anchor. Then Peggy assisted as we recalibrated the autopilot compass. That done we anchored and chilled while we rewarded ourselves with an early cocktail hour before heading in to dinner.

31 March 2019; Sunday; Millers Bay to Conception Island

Onward weighed anchor and was underway by 0615. I found that the sonar track "painting" continued as boat speed came up to 7+ kts. The key is being in the Navionics "fishing" chart mode and zooming in enough for the detailed bathymetry to appear.
The seas had calmed down nicely and there were only gentle NE swells as we rounded Cape Santa Maria. I took the shortcut across the N bank - a route I usually avoid when there are breaking waves to the S on its E edge. We anchored at West Bay Conception and found only one boat there ahead of us. Shortly after anchoring, I decided to go snorkeling to inspect the anchor, hull, prop, zincs. I was putting on my fins when I 6'+ shark swam under the boat. I was relieved to hear from Miles it was the local nurse shark inspecting the neighborhood. Once in the water, I saw no sign of it. The anchor was well hurried. Both zincs were attached to the shaft. The Spurs cutter was properly in place and functional, and the prop was just where it should be. Nice to confirm all this after the hurried prop replacement at Marco just before we departed.
At 1600, the Ariels fetched us and we all headed off to visit the salina with high tied expected at 1730. Once inside, we found the entrance channel to be less than obvious. We went to the S side — but the better by a little water is on the N side. There were many turtles inear the entrance, something I've not seen below. The inner channels have continued to change from what I first experienced in 2008. They have moved and are shallower. We spent an hour trying to get a video of the big turtles as them come up for a gulp of air and to spy on us. They cleverly never do this in the direction we are looking.
We finished the night with a grill night aboard Sandana. A lot of time was spent watching the fish attacked to Dan's underwater lights. Very eerie watching a big shark swim by in the blue light — even if it was a nurse shark.