Here are some neat products that I have found useful aboard Onward:

Plastic Stemless Wine Glasses
These wine glasses are made of surgical-grade clear plastic. They are stemless so they will not be so susceptible to being upset aboard a moving boat - which of course always happens to the red wine. They also have a neat indentation for the thumb to make them easier to hold. They are flexible.
GoVino
Soda Machine


Stop carrying all those bottles of soda on cruises -- less lugging and storae. Just put potable water in the pressure bottle, add a flavoring of your choice, chill, then add CO2. A 16-oz size bottle of flavoring will make > 13 liter bottles of soda. The diet tonic is great. Just add a bit of real lemon or lime to water and carbonate for a refreshing drink.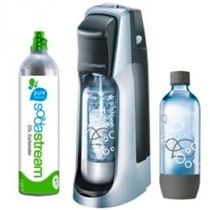 Sodastream USA
PortVisor
These are plastic visors that go over the side ports to prevent rain coming in when they are open. I bought one for the rear head port and it works so well I will buy another for the MSR port.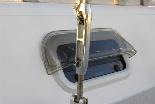 PortVisors
EnGenius
The EnGenius EUB-9702 EXT 1 802.11n WiFi transceiver is amazing. It connects to your computer via a USB cable (a "smart" 25' cable is good to have) and provides higher power output and more sensitivity to be able to pick up weak hot spots.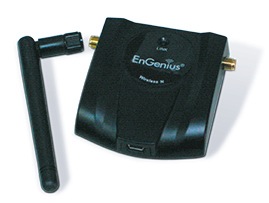 Note: EnGenius no longer makes this model and no longer supports it. I needed a new driver to use it with Mac OSX Lion and it was not available. I had to buy the newest model EUB 9603 and it is working fine.
NetGate
Raw Water Pump Impeller Extractor for Yanmar 4JH3TE Engine

Bay Shore Marine, Annapolis, MD
High Intensity LED Flashlight

The Fenix TK20 is an amazing led flashlight. It uses a CREE high intensity white LED with an output of 195 lumens. This means it throws a spot 300 m or more! It runs on two AA batteries. It is small enough to fit in your pocket but it is like carrying an LED spot light. I use it as a spotlight when traveling in the dinghy at night. About $55 to 60.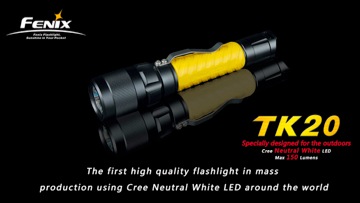 Fenix
Bags & Accessories
Ella Vickers is a cruisers who designs and produces bags, accessories and decor made with recycled sailcloth.
Updated: 18 Jan 12