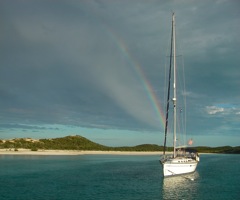 Onward Sporting a Rainbow at Warderick Wells Cay, Exumas, Bahamas
Welcome to the Website
for
Onward
Catalina 470 Hull 126

Onward is at Marco Island, Florida


A note from Joe & Peggy to our friends…
This website and journal have not been updated for some time - since our sojourn in Baltimore in September 2019. The initial reason was due to our hurried departure from Baltimore and ensuing rapid progress down the coast to Marco Island — interrupted by a trip to see family at Thanksgiving. Arrival in Marco Island was followed by an immediate departure for holiday visits to NY, VT, and CA. Our arrival back at Marco marked the beginning of an intense 4 week period to install a new generator. Delays in that project resulted in our being ready to depart for the Bahamas at the time the COVID-19 pandemic hit. We had moved back aboard Onward and were preparing to depart in the morning when Peggy came down with a severe cough. Out of caution we delayed the beginning of our winter cruise while monitoring her temperature and blood oxygen levels. Thankfully it appeared to be just a normal chest cold. However by this time the Bahamas and the Florida Keys both closed to transients and the marina closed which would have prevented our return if we departed. So we moved back to the condo at the Chalet and contented ourselves with watching the ocean from the balcony patio instead. So we continue to hang-on in COVID Time.

We hope you all are continuing to be well and stay safe.

Recently, we have made a couple of videos about cooking as a result of a challenge in Peggy's family. I've had great fun with them and have learned a whole new side of the screenwriter/producer/actor/chef/comedienne that is Peggy (aka MAD - to me).

There are two videos.

Here's the link: Cooking MAD in Quarantine.

Enjoy!





Page Updated: 7 May 2020